Îäåñüêà íàö³îíàëüíà
Odesa National
ìîðñüêà àêàäåì³ÿ
Maritime Academy
Ðåêëàìíî-³íôîðìàö³éíèé â³ää³ë
Advertising-informational Department
ÎÔ²Ñ 218, ÊÎÐÏÓÑ ¹7
OF. 218, Building ¹7
ijäð³õñîíà, 8
8, Didrikhson St.
65029, Îäåñà, Óêðà¿íà
65029, Odesa, Ukraine
òåë/ôàêñ: +38(0482)35-62-39
Ph/Fax +38(0482)35-62-39
E-mail: rio@onma.edu.ua
Web: http://www.onma.edu.ua
April 2009
Leading maritime universities and academies of the world develop cooperation.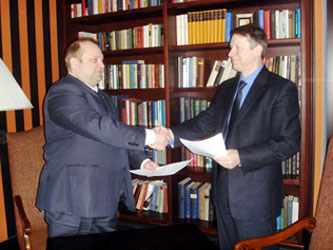 From April,19 to April, 22, 2009, the meeting of the International Executive Board of the International Association of Maritime Universities (IEB IAMU) took place in St. Petersburg, Russia. One of this meeting objectives was to discuss the matters connected with the 10th Anniversary Annual General Assembly, its preparation and conducting. The Assembly will be held in September, 2009, and will be hosted by Admiral Makarov State Maritime Academy. At the meeting of the IEB IAMU, Ukraine was represented by the rector of Odesa National Maritime Academy, M.V. Miyusov, who is the member of the IEB IAMU, the Head of International and Economic Cooperation Department, M.V. Chesnokova, and a senior lecturer of the Ship Control Chair, D.S. Zhukov.
IAMU, whose aim is to consolidate international cooperation in the field of maritime education and training of highly skilled specialists, is the core of the leading and dynamic global network, developing and contributing to the world maritime culture. In 2007, the Association was given the status of nongovernmental organization within the International Maritime Organization (IMO).
One of the agenda item of the IEB IAMU meeting was the election of the new IEB IAMU members for the next two years. In accordance with the Basic Agreement of IAMU, the representatives from four main regions of the Association were elected in the IEB:
Asia/Pacific — Kobe University, Faculty of Maritime Sciences (Japan);
Europe (EU) — Constanta Maritime University (Romania);
Americas — State University of New York Maritime College (USA);
Africa/Central Europe (excluding EU members)/Eastern Mediterranean/Middle East/Turkey and Russia — Odesa National Maritime Academy (Ukraine);
The IEB also included:
A representative of the Nippon Foundation;
Dalian Maritime University (China);
World Maritime University (Sweden);
The California Maritime Academy (USA);
Istanbul Technical University, Maritime Faculty (Turkey);
and two ex officio representatives, the Presidents of the universities that will host the next two Annual General Assemblies:
Korea Maritime University (Korea);
Gdynia Maritime University (Poland).
During the visit to St. Petersburg, our delegation went to see Admiral Makarov State Maritime Academy, where the negotiations about further cooperation between Odesa National Maritime Academy and Admiral Makarov State Maritime Academy were conducted. As a result of the negotiations, the association agreement was signed by the rector of ONMA, M.V. Miyusov, and the rector of Admiral Makarov SMA, V.L. Mikheev. The parties agreed to carry out cooperation in the field of research and educational activities, including scientific and technical cooperation, and in the sphere of methodological activity and training of personnel as well.