Одеська національна
Odesa National
морська академія
Maritime Academy
Рекламно-інформаційний відділ
Advertising-informational Department
ОФІС 218, КОРПУС №7
OF. 218, Building №7
Дідріхсона, 8
8, Didrikhson St.
65029, Одеса, Україна
65029, Odesa, Ukraine
тел/факс: +38(0482)35-62-39
Ph/Fax +38(0482)35-62-39
E-mail: rio@onma.edu.ua
Web: http://www.onma.edu.ua
№ 12 september 2008 year
Press-release
Consecration into cadets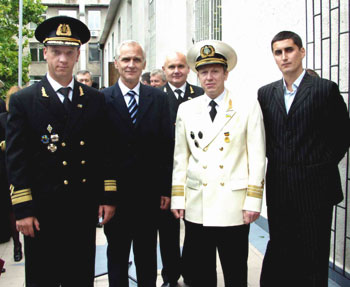 On the 19 of September 2008 the solemn ceremony of consecrating first-year students into cadets was held in Odesa National Maritime Academy. The Rector of the academy, Doctor of Engineering, Professor M.V.Miyusov opened the ceremony.
"It is necessary to highlight that this year we celebrate the 65th admission,'' said the Rector of the academy in his address to the first-year students. ''1451 cadets entered Odesa National Maritime Academy including Azov Maritime Institute of ONMA, Seafaring College of Technical Fleet of ONMA, Marine School named after O.I. Marinesko. Today Academy is one of the leading educational institutions in the world. I am sure that all graduates will be employed. Most important is to treat education seriously."
The ceremony was attended by such guests as the Head of Education and Science Department D.M. Demchenko, the Head of Odessa Commercial Sea Port "Yuzhnyj" Yu.Yu. Kruk, Chief Engineer of Ukrainian Danube Shipping Company K.A. Likhoglyad, Harbour Master of Odessa Commercial Sea Port A.A. Antonov and many others. Lots of complementary words were said about the Academy.
Demchenko D.M. greeted the first-year students on behalf of Education and Science Department of Odessa Regional State Administration and wished them to be strong and persistent and to bear with dignity their title of cadets. He stressed that "the cadets represent not only themselves and the institution they study at but also Ukraine."
Kruk Yu. Yu. wished "the cadets of Odesa National Maritime Academy to proof their choice of the educational institution by knowledge they gain while studying."
We join to all these warm words and wish all first-year students luck!