Îäåñüêà íàö³îíàëüíà
Odesa National
ìîðñüêà àêàäåì³ÿ
Maritime Academy
Ðåêëàìíî-³íôîðìàö³éíèé â³ää³ë
Advertising-informational Department
ÎÔ²Ñ 218, ÊÎÐÏÓÑ ¹7
OF. 218, Building ¹7
ijäð³õñîíà, 8
8, Didrikhson St.
65029, Îäåñà, Óêðà¿íà
65029, Odesa, Ukraine
òåë/ôàêñ: +38(0482)35-62-39
Ph/Fax +38(0482)35-62-39
E-mail: rio@onma.edu.ua
Web: http://www.onma.edu.ua
¹ 11 september 2008 year
Press-release
The Day of Knowledge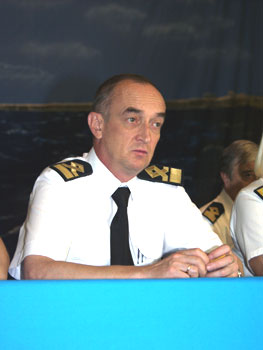 On the 1 of September 2008 a new educational year was celebrated in Odesa National Maritime Academy by a meeting held in the main hall.
The Day of Knowledge was traditionally started after the Academy banner had been brought in with the speech of the Ukrainian President. In his address the President thanked teachers and tutors and wished students «to walk confidently along the path of knowledge». He also congratulated everyone on the success of the first independent knowledge estimation of those graduates who were entering higher educational establishments this year.
The first Deputy Rector, Doctor of Law, professor Shemiakin A.N. greeted all students of Odesa National Maritime Academy. He highlighted that this year the Academy accepted more than 900 first-year students including Izmail faculty and Azov Maritime Institute.
The head of the department «English Language in Navigation» Ivasiuk N. A. in her vivid and figurative speech called the students to value the institution that gives them a chance to receive an education of European standard and wished them to stay in deep waters of knowledge.
The dean of the Sea Navigation Faculty, Tsymbal N.N., summed up his speech with words «Always have seven feet under a keel!».
The students were congratulated by many other tutors, including the head of the Ships' Power Plants Department Khanmamedov S.A., the head of Safety and Security at Sea Department Torskiy V.G., professor Lanchukovskiy V.I., senior lecturer Lukovtsev V.S.
Today the first-year students were greeting every speaker with enthusiastic applauds. It's possible, that years will pass and maybe some of today's students will stand on the stage of the main hall already as tutors of the Academy and wish a fair wind to those who only start their fascinating journey into the future. This path is not simple and only the worthies will make their way in life. Odesa National Maritime Academy needs hard-working students and talented tutors who would hold firmly the wheel of fortune. Let's wish them luck!